What Is Affiliate Bots?
Affiliate Bots is an affiliate marketing tool suite consisting of 17 affiliate marketing bots that can be used for a variety of tasks, ranging from increasing traffic to promoting products and websites, as well as getting paid for referring other affiliates.
In this video, John Chow explains how he uses the "hidden" keyword to get free traffic on YouTube (and how you can do it too). He then explains his secret hidden videos where he reveals all his secrets for getting traffic. You'll also learn about the key ingredients for a successful campaign, and what you should focus on if you want to get results.
The Benefits of Affiliate Bots
The Christmas Affiliate Bot which displays the expected top-selling products for Christmas 2018
Hosting Affiliate Bot which displays the top-paying affiliate programs for the huge hosting niche
IM Affiliate Bot discovers the most profitable affiliate programs in the Internet marketing niche
Affiliate Ads instantly find and create banner ads for over 200 ClickBank affiliate programs
Warrior250 discover the top 250 affiliate programs on WarriorPlus — this is great and its updated daily)
King Of The Zon covers the top 200 brand new and hottest products on Amazon, again, its updated daily.
Launch Pulse displays the top launches happening on JV, ClickBank and WarriorPlus in the next 30 days
CB 250 shows you the top 250 ClickBank affiliate programs, making seven figures a month in sales
King of the Zoo shows profitable affiliate programs that are making thousands of dollars per day, right now.
1 Click Affiliate that auto-creates profitable affiliate landing pages for any niche, product or affiliate program in just 60 seconds with no technical knowledge required.
1 Click Video Pages enables you to create super-profitable video sites using 10 proven templates
Rapid Video Creator auto-creates profitable YouTube videos for any buyer keyword in just 60 seconds
Resell Database software pre-loaded with 1000s of extra products that you can license in a few minutes
AutoMail software an auto-responder which allows you to build an unlimited list and send unlimited emails for life
Domainaveli find valuable premium domain names with the ultimate site name software
Flip DB a database of 360 websites making up to $26,000 per month from the auction site Flippa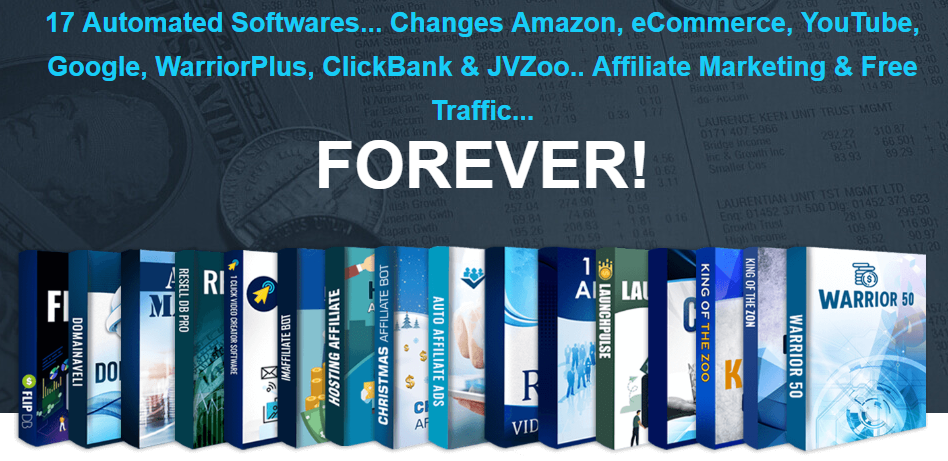 Who Should Use It?
If you are an affiliate marketer, you cannot ignore affiliate bots! They will help you to create the highest and most consistent commissions at the niches you desire. Whether you are experienced or not, you will also need them to work most effectively and without much effort.
Pros
The file is light to download
Nothing to set up
Pay only once
Proven products
Cons
I have not seen any difficulty using this product.
Conclusion
Affiliate marketing is a type of Internet marketing which refers to the ability to profit from the services or products of another business without having to spend money in the advertising or purchasing the products directly.
Affiliate Bots Bundle is a no-brainer buy for experienced IMs and newbies alike.
If you want to make sure you get a good product for the money, then I suggest you check out this offer. It's a great deal, and you can feel good about recommending it to other people as well.
Affiliate bots are artificial intelligence applications that make the marketing of affiliates easier.
This tool is a series of 37 different software programs that are designed to enhance your business. It took me some time to get my head around how the tools in this tool would benefit my business.
Click here to get Affiliate BOTS at discounted price (only $12) while it's still available