What is Tube Mastery and Monetization?
If you want to make money online, there's no better starting place than on YouTube. Tube Mastery teaches the steps to starting your first YouTube channel and growing it from a hobby into a money-making machine.
Everything you need to know is right here in this guide. It's as easy as 1,2,3. Just follow along, and you will be on your way to making YouTube videos like Matt Par in no time!
About the Author – Matt Par?
Matt Par is the creator of this course and claims he has 9 different YouTube channels. He has a few different income streams from those channels, including an estimated $30,000/month from them. In addition, he says he has over 1 million subscribers on one of his channels.
What will you get in Tube Mastery and Monetization?
Overall, there's 7 modules and here's a breakdown of each one:
Module 1: Overview of the blueprint
This section is just an introduction module and goes over the strategy being used.
Module 2: Choosing a niche
A niche is just the market you're going to target. Niches are important because it's going to be what your channel is about.
For example, Matt's Youtube channel Make Money Matt is in the "make money online" niche.
You'll learn what to look for when choosing your niche, which niches have the best paying ads and a bonus list of 100+ profitable niches.
Module 3: Setting up your channel for success
This is where you'll learn how to create your content strategy and how to get traffic through search engine optimization.
Module 4: Uploading videos
Here you'll learn about viral videos, how to get content ideas, editing your videos and making thumbnails that grab people's attention.
Module 5: The growth module
In module 5 you'll get training on growing your channel by understanding your analytics, strategies to go viral and uploading the best times.
Module 6: The monetization module
Module 6 is where you'll learn the best ways to monetize your site as well as Matt's personal favorites ways.
Module 7: Scaling your channel
Here you'll learn how to scale your channel and how to hire people to help you create videos.
How to Join Tube Mastery and Monetization?
Monetizing your website can be tricky, especially when you are just getting started. There are so many moving parts in getting paid for your work that it can be hard to get everything into place. We are here to help.
You will be prompted to enter your first and last name, your home address, your email address, and your phone number.
How much does it cost?
The course will set you back $597.
He does claim that it normally sells for $997, but i do not think I even have ever seen it at that price before, so $597 is that the price you'll expect to pay.
Pros Of Tube Mastery And Monetization
The techniques within the course are solid and you'll potentially make money with them.
There is tons of depth here.
Matt may be a good teacher
There are some decent bonuses
The Facebook group are often useful.
Cons Of Tube Mastery And Monetization
A good proportion of the course focuses on things that you can learn for free
The method isn't exactly 'unique'
I couldn't find proof that Matt has run successful YouTube channels before.
Conclusion
I've been trying to work on my speaking style for years now. It's very hard to change the way you talk and get a certain tone in your voice when you're giving presentations. However, I do feel like I am improving a bit.
While it might be difficult to pay for a certain course, it's a good idea to find the right person who can help you get started on your new career path.
Most of the techniques are often learned for free of charge.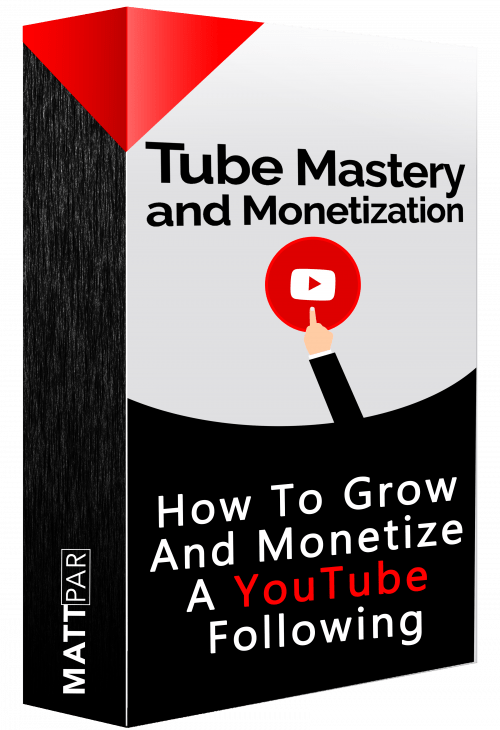 Product Name: Tube Mastery And Monetization (TMM)
Where To Buy: go.mattpar.com
Owner: Matt Par
Type Of Product: YouTube Training
Price: $597 or 3 secure payments of $266